Welcome to HDC - Birmingham Community
Affordable House and Lot in Cavite, Rizal & Metro Manila
Homeowners Development Corporation (HDC) was founded in 1984 and today is one of the Philippine's best known developers of new homes and houses. The company vision has been the same since the beginning: to be a dynamic and innovative company with a passionate commitment to provide superbly designed and built homes in excellent locations in Rizal - Antipolo, Cainta and San Mateo, Cavite, Metro Manila and areas where development is booming. 'Birmingham' has undoubtedly become a byword for quality House and Lot Subdivision.
HDC- Birmingham's first homes were typically large executive style properties, but today the HDC - Birmingham portfolio reflects the aspirations of a much broader range of house and lot buyers, encompassing medium to large-scale developments in towns, cities and the provinces.
HDC- Birmingham first project, sold-out in six (6) months, Madonna Homes, located at the back of the Central Catholic Church at Brgy. San Andres, Cainta, Rizal. Most of the projects of HDC are located in Rizal Province and accessible for the HDC management to supervise and complete due to its proximity to its office and to existing developments and communities. Its late chairman, Atty. Jose C. Hernandez, being a local and a government official of Rizal province, Ex-Vice Governor of Rizal from 1980-1986 gives the company credibility, integrity, and an image of honesty and good service for its target market. 
Birmingham -House and Lot Development Projects
Cavite - Birmingham Sotera, Birmingham Plains
Feel secure and at peace in Birmingham Cavite - Sotera and Plains, This subdivision developments project are accessible by a 24 hour transportation to and from Quezon City, Makati.

Breath fresh and clean air and enjoy waking up to the chirping birds and see stars on a clear night from your balcony. Our Birmingham Cavite has an easy access to dynamic recreational and commercial establishments.

Rizal - Birmingham Alberto, Birmingham Place, Birmingham Springfield, Birmingham Homes
Birmingham in Rizal is a distinctive new home community. Mostly located on highly accessible areas in Rizal. Neighborhood amenities include a heavily landscaped entranceway.

Accessible by a 24 hour transportation to and from Quezon Citym Makati and adjoining Marikina. Near in big schools like University of the Philippines (UP), Ateneo De Manila, Mirriam College via Batasan road and Assumption College and St. Scholastica,
Metro Manila - Birmingham Metropolis III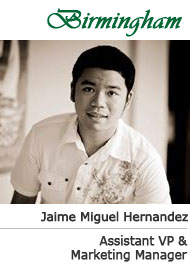 INQUIRE OUR HOUSE & LOT PROJECTS HERE
Address
154 Katipunan Avenue, St. Ignatius Quezon City, Philippines
Telephone Nos
911-2696 / 912-2874 / 912-7731 911-8103 / 911-8103
Email:
info@birminghamph.com